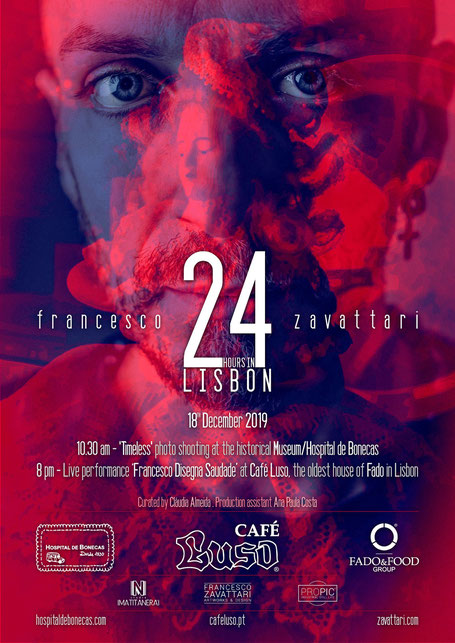 After a year fulfilled with many activities, both in artistic and commercial fields we're proud to announce that Francesco Zavattari will return to Portugal, just before the end of the year, to present official activities for the first time, in its capital, the stunning city of Lisbon. 
On December 18th the artist will continue his research through photography (a field in which over the years Francesco has developed very intensively), in the magical Museum /Hospital das Bonecas. A place opened in 1830, almost 200 years ago, and that fortunately remains in the very core of the city's downtown. In an intimate and immersive session Francesco, through his poetical lens, will record the beauty of the collection, in the museum, and in the hospital, where people leave their damaged dolls to be fixed by the hands of most careful workers, preserving this way family memories through generations, providing the delight of adults and children.  
Later in the evening, the artist will go uptown, in the famous and effervescent district of Bairro Alto, to perform his Live Painting at Café Luso, the oldest house of Fado in Lisbon. Performing sideways with the singers – fadistas – and Portuguese Guitar players, Francesco will capture and interpret into his imagery all the emotion conveyed by this melancholic and deep musical expression, immortalized by artists as Amália Rodrigues, the Fado icon. In 2011, UNESCO granted Fado World Heritage status: "At its heart is sentiment, lost love, longing for a departed one, everyday life and triumphs. After all, the vicissitudes of life provide endlessly inspirational topics." Located in the old wineries and stables of Palácio Brito Freire, the place is also a piece of history itself, survivor to the 1755's earthquake that devastated the city. 
In this frantic but deep 24 hours in Lisbon, Francesco will carry on his already solid projects "Timeless" (recently added project such as in Speelklok Museum Utrecht) and "Live painting performance" (specially dedicated to music, as in Casa Museo Luciano Pavarotti), providing more visions of beauty, a profound research through the deepest emotions of life. 
The international team of Francesco Zavattari Artworks and Design, led by Cláudia Almeida, assisted by Ana Paula Costa in Portugal, and press office in Italy, Silvia Cosentino, thanks the partners of this challenge, Raquel Mangas and Nuno Fernandes from "Café Luso" and Manuela Cutileiro, from "Museum/Hospital de Bonecas".